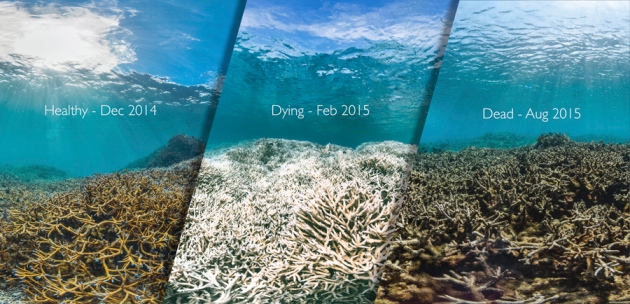 Carbon emissions continue to be unleashed into the atmosphere and are gradually damaging oceanic life with the absorption of heat in the atmosphere going into the ocean.  Coral bleaching, as seen in this photo (Chasing Coral),  is a stark and foreboding indicator of the feverishly rising ocean temperatures.
The team at Exposure Labs said they knew that if they could capture visual evidence of coral bleaching, they could reveal the phenomenon to the world in a powerful way.
Their documentary film Chasing Coral, which took more than three years to shoot was the result of 500+ hours underwater, submissions of footage from volunteers from 30 countries, as well as support from more than 500 people from various locations around the world.
They didn't just stop there, there are a variety of ways to connect, understand the impact of climate change and get involved on their website with their action guide: chasingcoral.com
Coral is integral to the health of the oceans and marine life, and in turn, humanity. Watch the film, visit their site, share with friends and help get involved to join the global efforts to save the oceans!