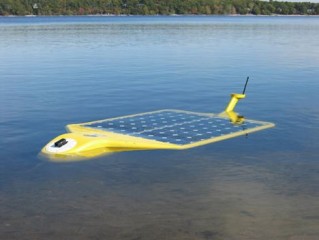 In the race to find solutions to critical water issues, the launch of a new cost-effective water quality sensor device by Beacon Institute for Rivers and Estuaries|Clarkson University is the first step in overcoming hurdles of historically prohibitive costs for long-term water resource monitoring.
The installation of the Institute's newest generation of River and Estuary Observatory Network (REON II) sensor arrays signifies the passing of the baton from the science lab to the river as they run ahead, complementing government capacity to invest in "wiring" the river for cleaner water.
The REON II device or "Sonde," deployed on the banks of the Hudson River in New Hamburg, N.Y., is providing real-time data called for by scientists to better understand the complex relationship between humans, the built environment and our fragile waterways.
It is one of 37 sensor stations currently in place in the Hudson and St. Lawrence river watersheds, making REON one of the world's most robust resources of real-time data. The goal of the REON research team to develop affordable, scalable, low-profile sensor networks and its potential for making water sensor technology universal, could be transformational to the field of environmental science.
CEF FFT: The more up-to-date and accurate the data we can collect on the water quality of rivers and estuaries, the more we can become aware of the impact our civilization has on these precious sources of life.
To read more and watch a video, visit the source link here.