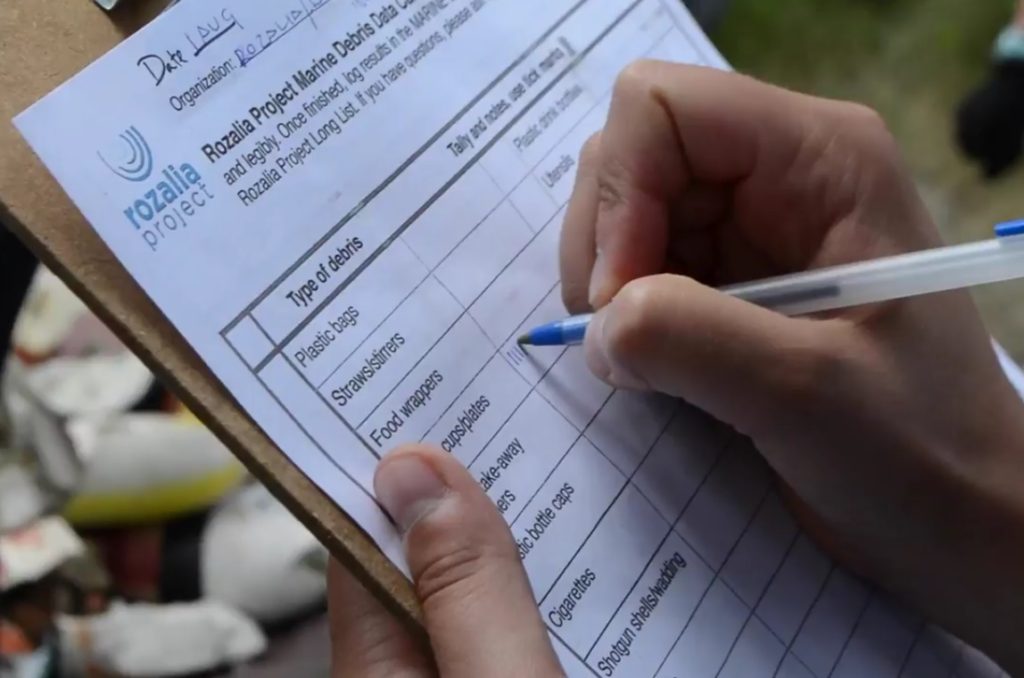 "Our mission is to protect the ocean." (Rozalia Project)
Rozalia Project has an amazing collection of efforts being brought together to tackle pollution.
One cool tool they use for volunteer cleanups is their Rozalia Project Marine Debris Data Card to keep tabs on what trash has been collected.
Here is an excerpt from Rozalia Project's mission statement:
Prevention: stopping trash getting into the water, and remediation: removing trash from the water and shores before it breaks down into micro size pieces, are the cornerstones of Rozalia Project's belief
that we can clean our oceans.
Here are the strategies and solutions that Rozalia Project is currently using to combat the problem of ocean pollution.
1) INNOVATION
Rozalia Project is using existing technologies in new ways and developing new technologies to clean our oceans from the surface to the seafloor:
Baleen Basker – low bycatch marine debris net
Remotely Operated Vehicle (ROV)
Unmanned Aerial Vehicle (UAV)
Sailing Research Vessel (American Promise)
High Resolution Ocean Trash Forecasting
Rozalia Project Ocean Pollution Fellowship Program (Guest Scientists berths available on every 2014 research expedition)
Rozalia Project Undergraduate Intern Program
2) EDUCATION
Rozalia Project has educated 47,000+ people of all ages about the effects and solutions to ocean trash through our in person education programs and our Expedition Reports/ virtual crew member programs over the last 4 years.
3) CLEANUP
Rozalia Project, from inception to present, has removed 565,000+ pieces of ocean trash from the waters and shorelines of North America by leading a variety of our own and volunteer cleanups with the following featured partnerships and programs.
4) SCIENTIFIC RESEARCH
We need knowledge before we can act, thus Rozalia Project has implemented several scientific research projects to develop data from which we can produce solutions.
5) LAND BASED SOLUTIONS
Rozalia Project is promoting several physical land based solutions to reduce the land to sea transport of trash.