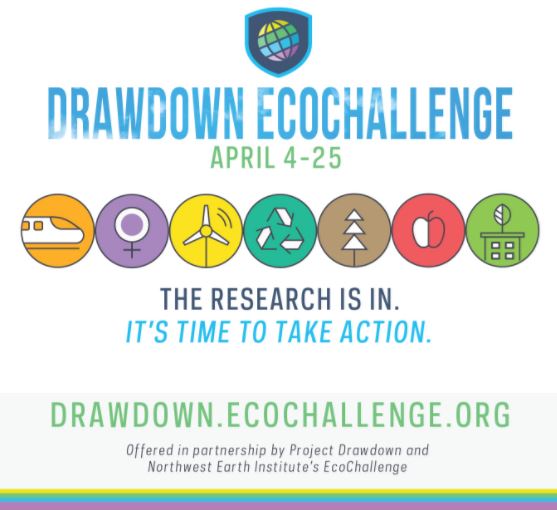 The Drawdown EcoChallenge is a fun and social way to learn about and take action on the 100 climate solutions featured in the seminal work of Paul Hawken "Drawdown."
From April 4-25, individuals and teams from around the world will take part in simple daily activities to reduce their carbon footprints and delve into the world's most substantive solutions to global warming. At the end of the Challenge, the teams with the most points will win great prizes, including copies of Drawdown and a one-hour video session with Paul Hawken!
The EcoChallenges are broken down into these sections (with an added note of current participants):
LAND USE (1260)
ELECTRICITY GENERATION (1751)
FOOD (3156)
WOMEN AND GIRLS (1392)
BUILDINGS AND CITIES (1598)
TRANSPORT (1814)
MATERIALS (2094)
Executive Director of Drawdown, Hawken states "All of life is comprised of self-organizing systems and the Drawdown EcoChallenge is exactly that—people coming together to share, learn, support, imagine, and innovate for a better world. We are honored to be a part of this significant and brilliant initiative."
Visit http://www.drawdown.org/ecochallenge for more information!