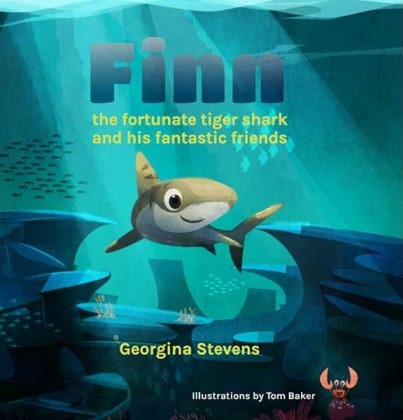 Be the Change books are set to be a collection of four books, each with an animal protagonist. The first book sees a little tiger shark called Finn lead the way. His tale shows the impact of plastic in the ocean and paints a rather grave picture of the reality for marine wildlife. While the story has a wonderfully positive ending, its message really connects with the reader. The beautiful illustrations are also sure to draw in any young person.
It's really positive to see people like Stevens trying to make a change. Books like these are a fantastic way to engage and interest youngsters, especially if they become part of the school curriculum. Hopefully, more children will enjoy these books and will understand that this is a problem in our oceans. Books with real messages often resonate better with children, especially when they're told by a fun character. It would be lovely to see more authors try and shine a light on these real-life problems to try and teach children that they need to protect their environment when they're older. If any authors have created similar books that can educate children, it's important to push for them to be published. However, if you've not had much luck with publishing companies, it might be worth looking at some self publishing companies that could help upcoming authors to release their books. Hopefully, the more authors talking about these issues, the more attention children will pay to these environmental problems.
100% of the profits from this book will be split between the organizations: "GREENPEACE" and "SOCIAL PLASTIC".
Find out more about
Be the Change books
and support her initiative by buying the new Finn the fortunate Tiger Shark book from
Amazon
.
See original article here: https://www.virgin.com/virgin-unite/how-finn-fortunate-tiger-shark-helping-save-ocean-plastic-waste